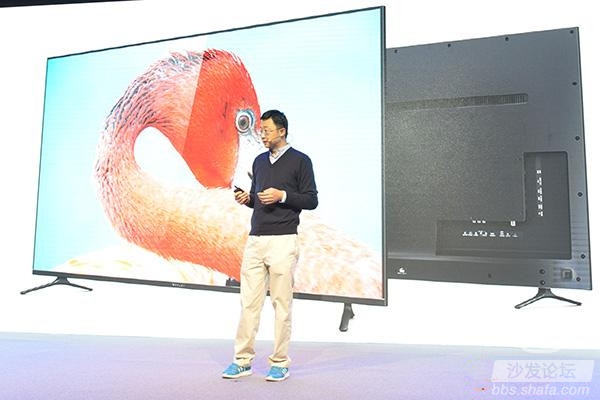 March 21 news, this afternoon, micro whale technology in Shanghai released a new 55-inch smart TV - micro whale 55PRO, this product is still the main young fashion, compared to the biggest difference in the previous generation of 55-inch TV, specifically for motion pictures With the introduction of "Sharp" technology, the motion image can be eliminated by adding a motion-compensated frame to the motion image system.
In appearance, the whale TV 55PRO is basically the same as the previous 55-inch version. The same narrow bezel design has a higher ratio of screens. It uses the mainstream herringbone bracket, black backplane, rich interface, and fine workmanship; the remote control also continues. The simple design of the 12-key, Bluetooth 4.0 and voice control.
Hardware configuration, in addition to storage space upgrade from 8GB to 16GB, the rest are consistent with the previous 55-inch products, also equipped with a 55-inch LG original IPS 4K screen resolution of 3840x2160, with a wide viewing angle of 178 ° and 8ms Response speed, the dynamic contrast of the screen is 10000:1 or more; At the same time equipped with 64-bit Mstar 6A828 quad-core Cortex-A53 CPU processor and 2G memory; Support H.265@60 frame 10bit hard decoding and 802.ac Wi-Fi , And built Hi-Fi level audio.
At the same time, on the system, Whaley UI based on 64-bit YunOS system is used. The feature is that it has a waterfall desktop design and the hierarchy is very simple. Switching the left navigation bar can touch all common applications and settings.
In terms of content resources, Microwhale Television relies on Chinese Culture (CMC) to aggregate Tencent videos, Mango TV, VICE and other high-quality content resources. It has a nominal total of more than 8,500 movies and more than 100,000 episodes of good dramas, covering TOP10 variety shows.
In addition, Micro Whale also announced that it has joined the MIT Media Lab, and will be involved in the smart home, human-computer interaction and other areas, plans to launch related products.
It is reported that this 55-inch 4K micro whale TV 55PRO hardware price is 3999 yuan, with 199 yuan a year of micro whale members, the whole price of 4198 yuan, has been opened in the Tmall March 21 pre-sale.
Flexible LED strips are assembled using FPCB and assembled with patch LEDs. Because the FPC material is soft, it can be bent, folded, and wound freely. It can be moved and stretched and folded in three-dimensional space. It is suitable for irregular places and small spaces, and it can be bent and wound at will. It is suitable for arbitrarily combining various patterns in decorations such as advertisements. It is DC 5-24V power supply, low power consumption, silicone potting, bright color, uniform color mixing, not easy to damage, beautiful appearance, safe and reliable, easy to install
Flexible LED Strip,S Shape LED Strip,5050Smd Flex LED ,Flex LED Strip
SHEN ZHEN SEL LIGHTING CO.,LTD , https://www.sel-lighting.com