According to the "China's roadmap for eliminating incandescent lamps" issued earlier, China will ban the sale and import of incandescent lamps for general lighting of 15 watts and above from October 1 this year.
In this battle for replacement market, as the rising star LED filament lamp gradually rises, it will usher in a new round of replacement tide.
Because of the perfect combination of LED filament lamp and traditional incandescent lamp technology, 360° illumination and the inherent complex of incandescent lamps in Europe and America make LED filament lamps popular in foreign markets.
At the same time, with the gradual maturity of filament technology, LED enterprises can achieve mass production and mass production, so that the price of the product will be reduced to the extent generally accepted by the market. It is believed that the market demand for LED filament will continue to increase.
Especially at this year's Frankfurt Light Show in Germany, it is obvious that LED filament lamps are becoming a new trend. Many people in the industry believe that LED filament lamps will become one of the mainstream light source products in 2016.
According to the statistics of the High-tech Research Institute LED Research Institute (GGII), the global LED filament lamp market demand reached 70 million in 2015. It is expected that the global LED filament lamp demand will reach 220 million in 2016, an increase of 367%.
Mulinsen completed the development of the A60 filament bulb on February 15, 2016 and passed the certification of ErP and ENERGY STAR.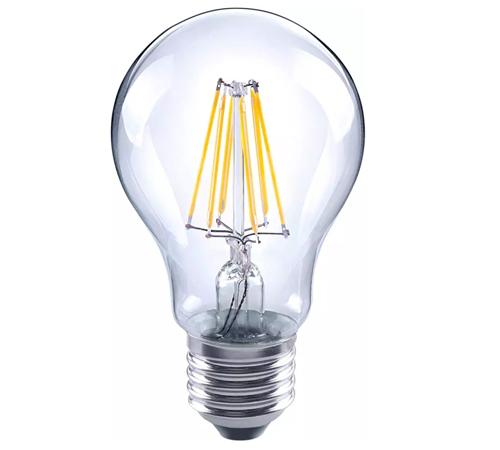 LED A60 filament lamp innovation:
1. Strip LED; 2. Drive in the lamp cap; 3. Shape and incandescent lamp can be directly replaced; 4. Better light efficiency and longer life; 5. Internal helium gas process to enhance heat dissipation; 6. Lampshade adopts High temperature and high strength borosilicate glass, sapphire substrate, multi-chip package; 7, high voltage LED technology; 8, no need for heat sinks and heat transfer materials.
LED A60 filament lamp main technical parameters:
· Power 6W
· Luminous flux>810LM
· 110lm/w <Light efficiency <130lm/w
· 25,000 hours life
· Ra>80
· Illumination angle 280°
· 6000 hours light decay <5%
LED A60 filament lamp six advantages:
1, classical and simple appearance, can be a perfect substitute for traditional incandescent bulbs, especially suitable for lighting in homes, hotels, bars and other decorative places;
2. The LED filament lamp emits light uniformly, and the full-angle stereo illumination;
3, LED filament lamp can perfectly connect with the current dimming technology, suitable for occasions where dimming is required;
4, LED filament lamp light efficiency up to 130lm / w, more than 90% energy saving than incandescent bulbs;
5, the brightness of the filament lamp has no time delay;
6, the life of the filament lamp is up to 25,000 hours.
Some customers evaluate the product:
1. Technology and process innovation are worth recommending.
2. It reflects the uniformity of the light of the filament lamp, and the luminous efficiency has a certain leading level. The product design is reasonable and beautiful.
3, in line with people's desire to miss retro.
4, the appearance is neat, the light is even, the light effect is high, the life is long, and the practicality is strong.
5. A huge replacement market has been recognized by many authorities.
6, filament products are LED technology in the lighting application to reflect the characteristics of LED technology, the most current products, inherit the classics, enlighten the future
7, built-in lamp holder, the appearance of classical simplicity, three-dimensional lighting, seamless docking of various dimming technology, high luminous efficiency. It is especially suitable for classical style places such as hotels, bars and furniture.
8. It solves the omnidirectional uniformity of illumination, which is a high-efficiency flow value per W, which is a high-efficiency performance. It is a good innovative product of the same kind.
9, such a high luminous efficiency, and full-circumference can directly replace incandescent lamps and energy-saving lamps, elegant style, natural and cost-effective, with the best potential for energy saving and emission reduction, will help accelerate the elimination of incandescent lamps and Mercury-contaminated energy-saving lamps are recommended and affirmed.
Awards and patents: 1. The first selection of Visual Magazine in 2015; 2. The first selection of Swiss magazines in 2016 (SLI); 3. The March 2016 German Red Dot Award (SLI filament lamp).
Linsen
Mulinsen (sz002745), established in 1997, has become the world's largest LED packaging factory, with an average monthly consumption of more than 50 billion LED chips. In 2015, the industry's turnover ranked 9th in the world, and LED market share in lighting ranked No. 1 in the world. 5.
Entering the lighting finished product market under the trademark "Mulinsen Lighting", in July 2016, it participated in the acquisition of the general lighting part of the world-renowned lighting brand "Osram". Is becoming an international brand.

CNC Machine Splitter Module
Main characteristics as below:
- Elaborately manufactures, stable and reliable quality.
- Modular design, small size, save space and greatly improved wiring efficiency.
- Easy to install
- LED action display, each action be absolutely clear to see.
- Custom design to adapt the needs of modern CNC machine tools.
CNC Machine Splitter Module, Digital Cable Splitter, 50 Core Splitter
Feyvan Electronics Technology Co., Ltd. , https://www.fv-cable-assembly.com