Furi Electronics released an additional issuance plan and resumed trading today. The company plans to issue 75.55 million shares to a number of individuals, including the indirect controlling shareholder Fujian Information Group, raising about 650 million yuan, all of which will be used to supplement liquidity or repay borrowings.
The price of the additional issuance of Furi Electronics is set at 8.65 yuan / share. Among them, the Fujian Provincial Information Group under the Fujian Provincial State-owned Assets Supervision and Administration Commission plans to subscribe for 8.75 million shares in cash of 75.69 million yuan. In addition, Fujian New Generation Information Technology Venture Capital Limited Partnership, Fuzhou Xinghe Investment Management Co., Ltd., Ping An Dahua Fund to set up Ping An Dahua Yongzhi No. 1 specific customer asset management plan, Wang Minhua, Hu Hongxiang and other objects to subscribe for the remaining shares.
Among them, the largest subscription is for the new generation of venture capital to subscribe for 22 million shares, natural person Wang Minhua subscribed for 17.3 million shares, and Yongzhi No. 1 and natural person Hu Hongxiang subscribed for 11.5 million shares respectively. According to the plan, the new generation of venture capital has a total investment of 401 million yuan from 37 partners. Fujian Xingzheng Venture Capital Co., Ltd. is its general partner, accounting for 12.47% of the capital contribution ratio. Among the remaining LPs, Fujian Investment and Development Group Co., Ltd. and Luxi Xinghang State-owned Assets Investment Management Co., Ltd. accounted for a high proportion, and the capital contributions were 100 million yuan and 50 million yuan respectively, accounting for 24.94% and 12.47 yuan. %. The remaining LPs accounted for between 1% and 4% of the capital contribution.
The 460 million yuan of the funds raised will be used to repay the loan, and the remaining 194 million will be used to supplement the working capital.
Furi Electronics' current business scope: computer hardware and peripheral equipment, software and system integration, microelectronics, electronic products and communication equipment, household appliances, electronic components manufacturing, sales; lighting, optoelectronic materials, devices and their applications (support Products, mobile communication terminals (including mobile phones, etc.), research and development, manufacturing and sales of power equipment and automation systems; optoelectronic lighting engineering design, construction and services; optoelectronic lighting engineering technology consulting services; electronic information technology services; foreign trade; Processing and sales of glass and glass fiber, engineering plastics, light industrial products, textiles and garments; electrical equipment and equipment, electrical equipment and equipment, mechanical equipment, hardware, instrumentation, building materials, chemical products (excluding hazardous chemicals), Sales of metal materials, mineral products (excluding coal), department stores, feed (excluding additives); investment in energy-saving projects; energy-saving technology development and services, contract energy management.

Plastic Bowl Food Choppers
Our Plastic Bowl Food Choppers are mainly have 0.6L plastic bowl, which is very suitable for personal using.
Description for Plastic Bowl Food Choppers
250W
0.6L plastic bowl
Multi chopper turbo operated by turbo button
S/S blade for chopping vegetables, herbs, onions, nuts and icecubes
With creamy function
Safety lock protection
Anti-slip rubber feet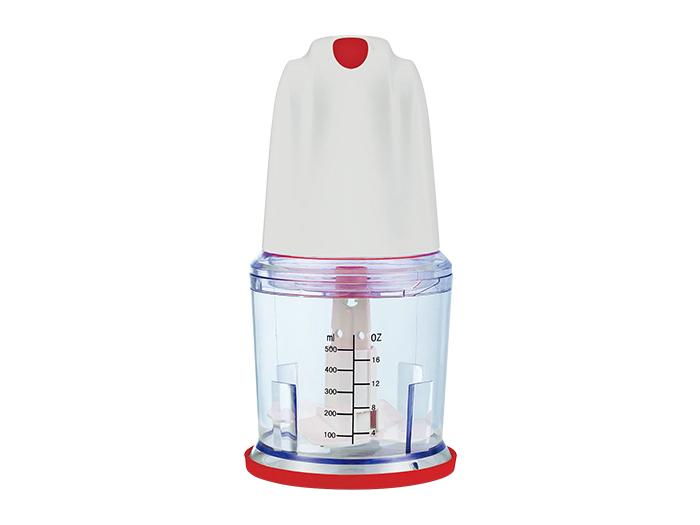 Plastic Bowl Food Choppers
Plastic Bowl Food Choppers,Plastic Bowl Choppers,Kitchenaid Food Chopper,Plastic Small Food Choppers
Flying Electronic Co., Ltd , https://www.flyingelectronic.com